WE ARE OPEN ONLINE AND WE ARE DELIVERING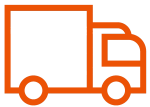 ---
Whirlpool FWL71253W freestanding 7kg front loading washing machine
6th sense colours
Ideal colour care.
The 6th SENSE Colours programs ensures outstanding colour care and unparalleled fabric protection. Each 6th SENSE program optimizes washing performance for a specific colour set, regardless of fabric type: Dark, Light, Mixed or Whites.
Colours 15°
Low temperatures, perfect protection.
The Colour 15° option provides all the care and protection you deserve, while ensuring ideal washing results for all your coloured clothing.
Child lock
Safety first.
This Whirlpool Washing Machine features a child lock system, to prevent toddlers and children from accidentally using this appliance.
Colours program
Ideal colour care.
Ensure your coloured items receive all the care you deserve, with the Colours Program.
Daily load
Effortless daily washing.
The Daily Load programme completes an average daily load (3.5kg) of mixed cotton and synthetic fibres at 40°C in only 60 minutes.
Silence
The Washing Machine's noise-level, measured in decibels.
Spinning Efficiency
Drum rotations, or spins, per minute (rpm). The faster the washing machine spins, the drier the clothes when taken out of the Washing Machine.
1200 RPM
Outstanding speed.
This Whirlpool Washing Machine features a 1200 rounds per minute spin speed.
Energy Rating
The Washing Machine's energy rating. The higher the rating, the higher the energy-efficiency of the product.
A+++ ENERGY EFFICIENCY
Outstanding energy efficiency.
With its A+++ energy rating, this Whirlpool Washing machine will allow you to enjoy both ideal results and lower energy consumption.
Capacity
The Washing Machine's drum capacity, measured in kilograms.
7KG CAPACITY
This Whirlpool Washing Machine offers 7kg drum capacity for your laundry.
Technical details
Width of the product: 595
Width of the packed product: 640
Depth: 575
Depth of the packed product: 590
Height of the product: 845
Height of the packed product: 870
Net weight (kg): 66
Gross weight (kg): 67
Current (A): 10
Length of electrical supply cord (cm): 120
Connection rating (W): 1850
Noise level spinning (dB(A) re 1 pW): 79
Noise level washing (dB(A) re 1 pW): 63
Construction Type Free-standing
Main features
Adjustable feet: Yes - all
Capacity: 7kg
Cold wash option: No
Hot & cold water intake?: No
Loading type: Front
Spin speed: 1200
Removable work top: Yes
Separate temperature control options: Steps
Spin speed optionsVariable
Start delay optionsContinuous
Start delay time max. (h): 0
Water plus: No
Performances
Energy class: A+++
Washing performance class - NEW (2010/30/EC): A
Energy consumption annual (kWh/annum) - NEW (2010/30/EC): 175
Spin drying performance class: B
Water consumption annual (l/annum) - NEW (2010/30/EC)): 9280
Featured
See Our Most featured Products