Streaming
Model: GA00439-IE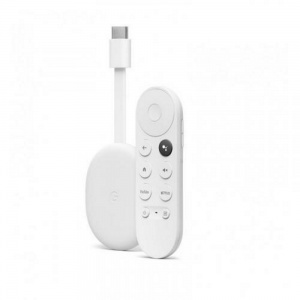 Model: GA01919-IE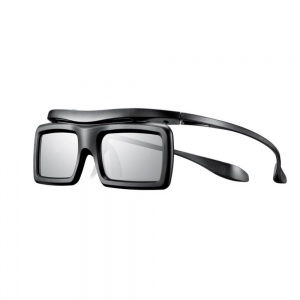 Model: SSG-3050GB
Google Chromecast 3rd Generation GA00439-IE (GA00439-IE)
Google Chromecast 3rd Generation GA00439-IE
Google Chromecast
GA00439-IE
What is Chromecast?
Chromecast is a media streaming device that plugs into the HDMI port on your TV. Simply use your mobile device and the TV you already own to cast your favourite TV shows, films, music, sport, games and more. Chromecast works with iPhone®, iPad®, Android phones and tablets, Mac® and Windows® laptops and Chromebooks.
An easy way to get video, music and games to your TV
With Chromecast, your phone is a simple powerful remote. Open the mobile apps that you already know and love to quickly access things like your TV shows, your playlists, your queues. No new logins or downloads required.
Simply tap the Cast button to see your favourite content on the big screen.
By using your, it's easy to browse, queue and control the TV from anywhere in the home. And you can still keep using your phone for other things without disrupting what's playing or draining your battery.
Turn your TV screen into a picture frame
When you're not casting, you can turn your TV screen into a beautiful backdrop of images. Customise your TV screen with Google Photos, Facebook, Flickr, famous works of art, headline news and more.
Mirror your Android screen
Cast exactly what you see on your Android phone or tablet screen to the TV. Your holiday photos and videos, favourite social media sites, presentations and more – now bigger than ever.*
Stream super-fast
Chromecast streams content from the cloud, so you get the highest quality 1080p HD video and surround sound. With 2.4/5 GHz Wi-Fi support and an adaptive antenna system built in, it keeps video resolution high and buffering low.
Mirror any website
If you can find it online, you can see it on your TV. See whatever's on your laptop's Chrome browser on the big screen.
Game on, game big
Turn your TV screen into a game board, racetrack, dance floor or trivia quiz. With Chromecast, everyone can play games using their phone as their personal controller, while watching the action live on the big screen.
What's in the box?
Chromecast
Power cable
Power adaptor
Black colour
Model - GA00439-IE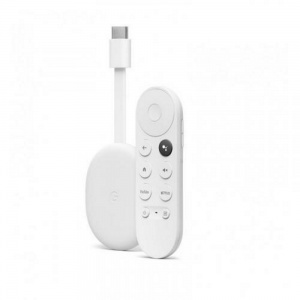 Google GA01919-IE Chromecast With Google TV (GA01919-IE)
Google GA01919-IE Chromecast With Google TV
Product Information:
Google GA01919-IE Chromecast With Google TV
The entertainment you love, In one place
Google TV organises movies and TV shows from your favourite services into a single screen.
Find your next favourite, based on your favourites
Get personal recommendations based on the content that you enjoy.
Do more on your TV, with the voice remote
Ask for a specific title or search by mood, genre, actor, and more.
Get personal recommendations
Find your next favourite based on your subscriptions, viewing history and content that you own.
Get more at the right price.
When you search for a show or movie, find out if it's included in your services, or compare prices on other ways to watch
From the small screen to the TV.
Cast from hundreds of compatible Android and iOS apps directly from your phone, laptop, or tablet. And mirror your Chrome browser tab to your TV.
Watch your favourites with your voice.
Press the Google Assistant button on the included remote or use your Google Assistant-enabled speaker, display or phone to ask Google to find films, TV programmes or music.
Product Specification:
What's in the box: Chromecast, Power cable, Power adapter, Voice remote, 2 x AAA batteries
Requirements: TV with an HDMI port, Wi-Fi network, Supported Wi-Fi-enabled device
Model - GA01919-IE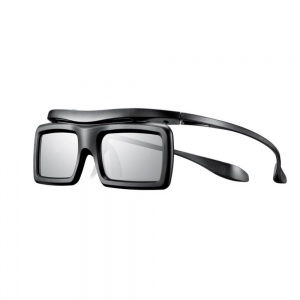 Samsung SSG-3050GB 3D Active Shutter Bluetooth Glasses (SSG-3050GB)
Samsung SSG-3050GB 3D Active Shutter Bluetooth Glasses (SSG3050GB)
Product Information:
Samsung's highly-rated 3D TVs can only deliver a 3D viewing experience if you're wearing compatible Samsung 3D glasses. These active glasses have special liquid crystal lenses which open and close in precise coordination with the 3D content displayed on the TV screen. Each of your eyes will see a slightly different image with full 1080p resolution. That's what creates the 3D effect.
Samsung's SSG-3050GB 3D glasses communicate via Bluetooth® signals with the 3D emitter built into 2011 and 2012 Samsung 3D TVs, both LED-LCD and plasma models. They're designed to fit comfortably over your eyeglasses, and are powered by a small replaceable battery
Product Specification:
3D active glasses
CR2025 3V lithium battery (installed)
Cleaning cloth
User's Guide
Model - SSG-3050GB