WE ARE OPEN ONLINE AND WE ARE DELIVERING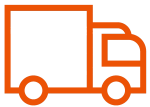 ---
Product Information

Enjoy crispy and tasty fried food with little to no oil!*
We all like to indulge in our favourite fried food every now and then. But what if we could do so with a clear conscience? The Tefal Fry Delight FX100040 low fat fryer is designed to help you do just that.
Fry Delight is a low-oil fryer that makes it easy to prepare healthy and delicious meals for all the family. This clever cooking creation uses super-fast, heated air to prepare tasty food that's beautifully crisp on the outside, and delightfully tender on the inside – using little to no oil.*
In addition to frying, the versatile Fry Delight by Tefal also allows you to grill, roast and bake all your favourite meals in no time. The possibilities are truly endless. With an 800g (four serving) capacity, it's ideal for family use. Plus, thanks to a built-in timer with auto-off and adjustable temperature, cooking isn't just healthier – it's easier too. So, go on – let Fry Delight feed your family's appetite!
*Many preparations do not require the addition of oil.


A healthy way to fry
The fryer that cooks with super-fast hot air.
Instead of oil, the revolutionary Fry Delight uses super-fast heated air to fry. This clever air cooking system is called Air Pulse Technology.
Here's how it works: Fry Delight is equipped with an upper heating element and a fan. The element produces hot air (heated up to 200oC) which the fan circulates around your food at high speeds. This optimised hot airflow ensures that heated air surrounds the entire basket.
The result: delicious and healthy fried food that's delicately crisp on the outside, while staying delightfully tender on the inside – all using little to no oil! Plus, because Fry Delight uses hardly any oil, your house won't smell like a chip shop.


Frying is only the beginning
Versatile fryer grills, roasts and bakes.
If you think Fry Delight is just for frying, think again. This versatile appliance can also be used to grill, roast and even bake your favourite foods.
From appetisers to afters, the possibilities are endless. How about some grilled chicken tenders to start? Or treat yourself to some delicious roast potatoes with your main course. Those with a sweet tooth will be delighted to know that you can even bake a moist cake inside your Fry Delight! What will you make first?


Quick and easy family meals
The powerful 1450W/800g Fry Delight prepares tasty and healthy dishes for all the family quickly and easily, so it's ideal for daily use.
Simply pull out the tray and pop in your food. In just 15 minutes, you'll have two servings of piping hot, deliciously crisp chips** – or tasty grilled chicken, fluffy roast potatoes, even moist muffins. You can cook pretty much anything in Fry Delight, with little to no oil!
There's a handy visual guide to cooking times and temperatures to ensure every food is cooked beautifully, every time. Just select your desired temperature (between 150°C and 200°C) and set the timer (up to 30 minutes). The timer stops cooking automatically, so there's no risk of burning your food. This really is cooking at its easiest! The hardest part will be deciding what to make next.
Features

Minimal oil smell
Fry Delight uses little to no oil* so there's hardly any oil smell – unlike standard fryers.


Controllable cooking
Select your desired temperature (from 150°C to 200°C) for optimal cooking results, every time.


Easy to use
The timer stops cooking automatically – so there's no risk of burning your food.


Fuss-free cleaning
A removable, dishwasher-safe basket and pan allow for easy clean-up.
Specifications

0.8kg food capacity.
Variable temperature from 150°C to 200°C.
Mechanical timer.
Removable bowl.
Safety cut out.
Size H31.5, W28.2, D37cm.
1450 watts.
Manufacturer's 2 year guarantee.
Featured
See Our Most featured Products