WE ARE OPEN ONLINE AND WE ARE DELIVERING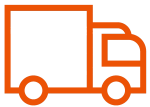 ---
NOTICE

AFTER YOU PLACE YOUR ORDER PLEASE ALLOW TWO HOURS FOR US TO PROCESS YOUR ORDER.
Silver TR832B Standard Irish Telephone Curly Black Handset Cord
Model - TR832B
Silver TR832B Irish Telephone  'curly' Handset Cord Standard Length
Replace tangled or broken telephone handset cords.
No installation or wiring required, takes only minutes.
Insert smaller plug into handset of telephone and larger plug into base of telephone.
Curly cord is Black in colour.
Featured
See Our Most featured Products