WE ARE OPEN ONLINE AND WE ARE DELIVERING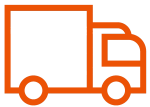 ---
Hotpoint FFUL1913P 65/35 Fridge Freezer – White
With full no frost technology, heaps of storage space and outstanding energy efficiency, the Hotpoint FFUL1913P Fridge Freezer meets all of your cooling demands.
Spacious
Designed with a 65/35 overall split configuration, the fridge compartment has an impressive capacity of 302 litres with the freezer offering 148 litres.
Three adjustable shelves allow you to adjust the interior of the fridge to a configuration that best suits your needs. A further three door balconies provide space for bottles and cartons in the upright position. There's also a handy wine rack.
Two salad crisper compartments provide an ideal environment for keeping your fruit and vegetables fresh and also prevent any accidental crushing.

Freezer cooling
The large freezer section contains three clear-fronted drawers. With clear fronts it's easy to see what you have in each drawer without too much foraging around.

Optimum cooling
The fridge uses an auto-defrost system which not only prevents you from having to perform the tedious job of manual defrosting, but also has the benefit of providing the FFUL1913P with better temperature management throughout.
Both the fridge and freezer are fitted with a handy super cool function. Perfect for when you've been out shopping and your purchases are starting to thaw slightly, this function lowers the temperature to quickly chill newly introduced items.

Healthy living
The FUFL1810-G includes Hygiene+ Antibacterial protection to help to keep your family safe from harm. This protection is built into the internal walls of the fridge to combat mould and bacteria, keeping your fridge in the best condition for your fresh food.

Energy efficient
Save energy and money when you use the FFUL1913P Fridge Freezer thanks to its A+ energy class, which means that you can store your food without a second thought to your energy bills.
With electronic controls and advanced cooling technology, the Hotpoint FFUL1913P Fridge Freezer will help you store fresh and healthy food.

Hotpoint and Jamie Oliver
Express yourself in the kitchen. Hotpoint and Jamie Oliver have teamed up to deliver innovative appliances that make cooking simple for any passionate baker, roast aficionado or comfort-style cook. Love your food and eat better whether you're entertaining or making everyday meals.

Specifications
Manufacturer's guarantee: 1 year
Energy efficiency rating: A+
Annual energy consumption: 418 kWh
Fridge / Freezer split: 65 / 35

Fridge / Freezer configuration:
Fridge top
Freezer bottom
Total gross capacity: 486 litres
Total storage capacity: 450 litres

Storage volume
Fridge: 302 litres
Freezer: 148 litres
Suitable for outbuildings: No
Climate class: SN - T
Optimum ambient temperature range: 10 - 43°C
Noise level: 43 dB(A)
Colour / Finish: Gloss white

Fridge interior
Number of shelves: 2
Number of salad crispers: 2
Number of door compartments: 3
Interior light: Yes
Shelves: Safety glass
Adjustable shelves: Yes
Storage features: Wine rack x 1
Fridge gross capacity: 324 litres

Fridge functions
Fridge auto-defrost: Yes
Fast chill function: Yes
Air-flow cooling: Yes

Hygiene features:
Anti bacterial seals
Hygiene advance silver ion technology

Freezer interior
Compartments: Drawers x 3
Clear drawer fronts: Yes
Interior light: No
Freezer gross capacity: 162 litres

Freezer functions
Freezer star rating: ****
Defrosting: Frost free
Fast freeze function: Yes
Power failure safe-storage time: 19 hours

Controls
Controls: Internal control
Digital display: LED
Thermostat: Single

Safety features
Temperature warning: No
Open door warning: No

Environmental
CFC free: Yes
HFC free: Yes

GENERAL
Door
Reversible door - hinged on right.
Installation kit required.

Recommended installation space
10 mm to the sides
10 mm above
10 mm behind
Flat back design: No

Box contents
Hotpoint FFUL1913P 65/35 Fridge Freezer
Wine rack x 1
Ice cube tray x 1

Dimensions
1955 x 700 x 715 mm (H x W x D)

Boxed dimensions
2015 x 750 x 780 mm (H x W x D)

Weight

Boxed weight
Featured
See Our Most featured Products