WE ARE OPEN ONLINE AND WE ARE DELIVERING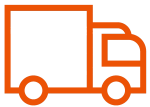 ---
A51002
Compact Design
The compact design of the DVD player allows it to fit almost anywhere. Whether you have a small living space or you are low on storage, this entertainment device fits snuggly either horizontally or vertically next to your television taking up minimal space. Ideal for a bedroom, kitchen or small living room! The curved front edge and easy display buttons on the device display a smart, stylish finish.
Compatible with a Variety of Formats
Performing as so much more than just a DVD player, this entertainment player has the ability to play CD's as well as streaming videos and displaying images via the USB port. Accepting a variety of formats including MP3, MP4 and JPEG discs, you can be sure that you are well equipped for all of your entertainment needs. Included with the Compact DVD player is an easy-to-use remote control, allowing you to conveniently take control over your viewing. 
Featured
See Our Most featured Products